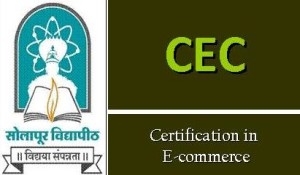 Certification in E-commerce Management is 3-course certification is designed for those looking to pursue a career in eBusiness / eCommerce as well as for professionals currently in the discipline looking to increase the breadth and depth of their skills and qualifications. It includes education on best practices in the management of eBusiness and eCommerce operations.
Admission Eligibility
Any student who meets the following criteria is eligible for the admission to Certification in e-Commerce Management
He should have secured atleast 50% in the Bachelors' degree.
He should have completed his bachelor's degree from the recognized university
Course Duration
Total Duration of Certification in e-Commerce Management is 6 months for the students aspiring to do this course.
Diploma should be completed within 6 months from the admission date.
Candidate can complete the study and should go to the Solapur University and appear for the exam.
Examination Dates
Examinations for Certification in e-Commerce Management would take place twice a year. Once in December and Second in June.
December'2013 Exams

Last date of Submission of the forms
31.10.2013
Last date of Submission of the forms with Late Payment Fees
11.11.2013
SCHEME OF EXAMINATION
| | | |
| --- | --- | --- |
| PAPERS | NAME OF PAPERS | MARKS |
| Paper I | Introduction to e-Commerce | 100 |
| Paper II | e-Commerce Strategies & Global e-Commerce | 100 |
| Paper III | e-Commerce Frauds | 100 |
| TOTAL | | 300 |
Standard of Passing: Minimum 40% marks in every paper
Who Should do this course ?
If you are planning to pursue your career in e-comemrce or plan to setup online business then this course and the reference books are most essential for your career growth.