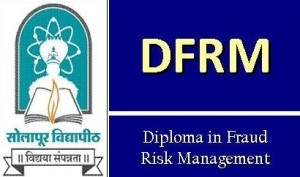 Admission Eligibility
Any student who meets the following criteria is eligible for the admission to Diploma in Fraud Risk Management
He should have secured atleast 50% in the Bachelors' degree.
He should have completed his bachelor's degree from the recognized university
Course Duration
Total Duration of Diploma in Fraud Risk Management is 12 months for the students aspiring to do this course.
Diploma should be completed within 12 months from the admission date.
Candidate can complete the study and should go to the Solapur University and appear for the exam.
Passing Level
In order to complete the Diploma student needs to score 40% passing score in the examination.
Candidate scoring below 40% is not eligible to get the certification. However, on payment of re-checking fees of Rs.300 per paper the candidate can then apply for the re-checking of the examination papers
If the candidate fails to pass even after the re-checking, he would have to re-apply for the course on payment of the examination fees and can appear for the immediately next attempt
Examination Dates
Examination for Diploma course in forensic accounting would take place twice in a year in the month of June and December every year.
June'14 Exams
Last date of Submission of the forms
01.05.2014
Last date of Submission of the forms with Late Payment Fees
10.05.2014
SCHEME OF EXAMINATION
| | | |
| --- | --- | --- |
| PAPERS | NAME OF PAPERS | MARKS |
| Paper I | Legal aspects of Frauds | 100 |
| Paper II | Prevention, detection and investigation | 100 |
| Paper III | Stock market and Accounting Frauds | 100 |
| Paper IV | Sectoral Specialization | 100 |
| TOTAL | | 400 |
Standard of Passing: Minimum 40% marks in every paper
PAPER STRUCTURE
There are four papers of 100 marks each and the time for completion of the examination of each paper is 3 hours.
| | | |
| --- | --- | --- |
| Question no. | Pattern of questions in question paper | Marks allotted |
| 1(a) | Fill in the blanks/true or false | 10 |
| 1(b) | Match the pairs/ Answer in one sentence | 10 |
| 2 | Answer the following questions (Any 4 out of 7) | 40 |
| 3 | Answer the following questions in brief (Any 4 out of 7) | 20 |
| 4 | Write short notes (Any 4 out of 7) | 20 |